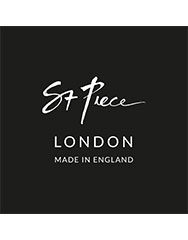 Founded in 2013, St. Piece is a London-based print design studio specialising in luxury silk scarves and accessories for men and women. Known for the signature style of intricate print details and the use of intense and opulent colours, St Piece scarves are designed in the London studio before printed and individually hand-roll hemmed in Cheshire, England.
St. Piece studio is led by Creative Director Sandy Chang, whose years of experience at some of the world's top fashion houses includes tenure at Alexander McQueen, post studies at Central St. Martin's and Chelsea College of Art and Design.
"ST" embodies the initial of the label's two founding partners, whose goal is to create a "piece" of art through each and every one of the scarves - beautiful paintings on luxurious canvases of silk and cashmere to be admired and enjoyed.