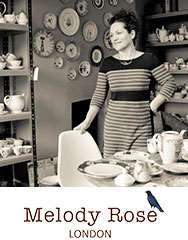 Founded in 2011 by designer Melanie Roseveare, the Melody Rose brand is known for high quality, contemporary bone china tableware with an elegant twist.
Melanie's early work focussed on marrying the unexpected with the traditional; images that shocked and pleased in equal measure; pretty vintage Victoriana china with tantalising imagery, the juxtaposition of quaint and quirky. A brand was born.
This established Melody Rose as highly covetable, garnering press acclaim in the UK and internationally. Now, Melody Rose produces its own fine bone china range with a third-generation pottery in Stoke-on-Trent. Each piece is handmade, keeping at its heart the tremendous quality that has made Britain renowned for its ceramic heritage. Durable enough for everyday use, the hand-applied gilding and glorious detail of each piece make them perfect for the grandest occasions, while the quirky imagery keeps them firmly 21st Century.
Current collections include London Inspired Rock and Roll (featuring the now iconic Skull collection); Urban Nature with eagles, wolves and dragonflies; Modern SuRealist including the romantic Kissing Couple design; the circus-themed Acts of Daring and the In Colour collection, which features a 1970's inspired palette of bold colours. Designed to layered, mixed and matched, combine your favourites from any of the ranges to create your own unique Melody Rose set.
This autumn 2016 sees the launch of our first collection of textiles including a range of british velvet cushions complete with golden tassels to finish and four beautiful tea towel designs.