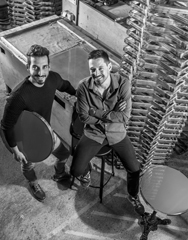 Ardamez, the authentic Parisian bistro table. Specialist of outdoor and indoor furniture, Ardamez provides hospitality professionals, designers and architects with its know how worldwide, offering high quality products custom made in France.
All products are manufactured in the spirit of old enamel signs.
The respect of enamel artisans know-how is the heart of its business. Indeed, each enamel sign is handmade respecting the traditional techniques.