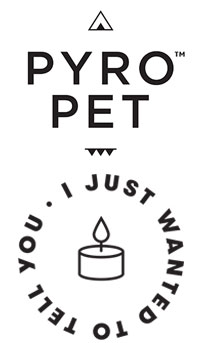 54 Celsius is the company behind Pyropet Candles.

Pyropets are known for cute animal characters that reveal their wild side. As the candles melt they reveal the animal's aluminum skeleton with fire glowing in its eyes. The idea came to Icelandic designer Thorunn Arnadottir one Christmas when she saw a forlorn Santa Claus candle with his head half melted away. She wondered how she could elevate this common-place ritual sacrifice into a true theatre of the macabre.
"I just wanted to tell you" collection candles bring the excitement and anticipation that comes with a secret message. The candles are contained in a ceramic cup with a message printed on the bottom. As the wax melts and becomes translucent the message is slowly revealed.
Candles are often used to add atmosphere to a dinner, a party, or a romantic evening. Why not add to the atmosphere with a personal secret message. 8 messages in the collection range from "Your Smoking Hot" to "Happy Housewarming".
Each candle comes with a removable label so that the giver knows the secret message.