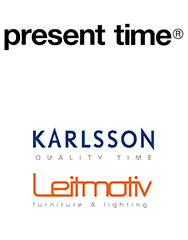 Present Time's mission is to allow contemporary design to add fun and a personal touch to life. In the early 1980's, a small gift company called Kaleidoscoop started. Due to the success of this company it merged with Clockwork and they decided to combine their strengths under the name Present Time. The Present Time Head Quarters are located in Almere, The Netherlands. Present Time continued to grow over the past decade and is now the parent company of the brands: pt, Karlsson, and Leitmotiv.
Karlsson is a world-renowned Dutch clock brand. The Karlsson brand is synonymous with high quality, stunning graphics, aesthetic shapes and innovative design. This is the result of a unique collaboration between national and international designers and our own creative team.
Leitmotiv products are so called to reflect their strong and timeless design elements that appear in each and every collection. Their products will surprise you with daring, challenging designs, which makes this a unique collection.